Showing cavies
An introduction to showing cavies
The guinea pigs being shown are divided into two main groups. The first is the Purebred section, for guinea pigs which are of a recognised breed, like Abyssinians for example, with their harsh coat arranged into rosettes. Another purebred is the Dalmation, a smooth short-coated white guinea pig with coloured spots all over its body, usually in black or chocolate colour. You will also see the longhaired varieties with their long coats brushed out more...
How to enter a cavy show
Cavy shows are held throughout the year, and on any one weekend, you might expect between three and six shows to be held somewhere in the UK. Show are advertised in the monthly journal devoted to the cavy - CAVIES magazine more...
Preparing cavies for a show
If you are showing a cavy in the pure bred classes, it is best to ask someone how to prepare your partiuclar breed. Generally, the coats of short-haired cavies are shown with the long guard hairs removed. This is achieved by gently more...
A pictorial guide to grooming longhaired cavies
A longhaired cavy's coat grows at the rate of approximately 1" a month. If the coat is to be kept in an untangled state, and if the coat's density and eveness is to be maintained, it is necessary to undertake careful and regular grooming, and to keep the growing coat in more...
At the show
On the show day, the pigs will spend the day in a wire pen, which is supplied by the club. You will need to bring shavings and hay for bedding, plus dry food and vegetables for your guinea pigs to eat more...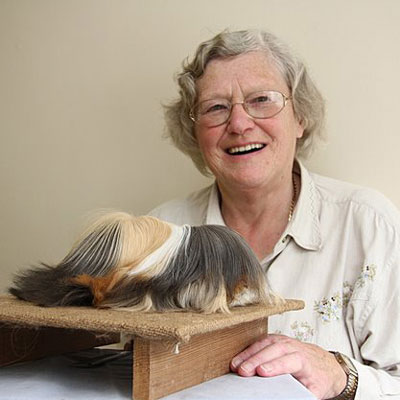 Wash 3: Designed by Simon Neesam for the British Cavy Council © 2009